Shop with the trade professionals!
Online sales for both trade & public.
ColorFill Worktop Joint Sealant And Repairer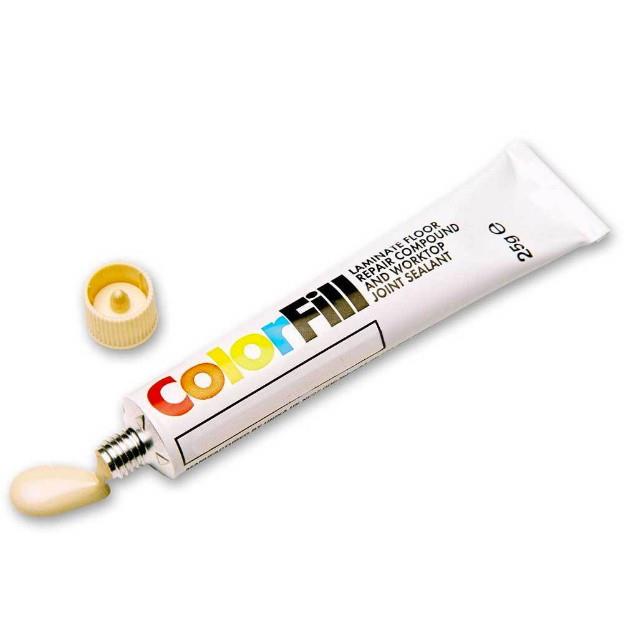 Please note images are for illustrative purposes only. Whilst we exercise every care to provide accurate images, they may not show the exact variation listed below.
ColorFill Worktop Joint Sealant And Repairer
Description
ColorFill Worktop Joint Sealant And Repairer
ColorFill is the first sealant to be designed specifically for the installation of mitred worktop joints.
ColorFill performs three tasks:
It bonds the joint together.
It is exactly colour matched to the worktop so making the finished joint almost invisible.
In addition to joints ColorFill will repair scratches and chips in laminate and melamine surfaces.
ColorFill has been formulated to resist moisture, detergent and other household products as efficiently as the laminate and will withstand heat and direct sunlight.
We recommend that hot pans and dishes from the oven should not be placed over joints.
ColorFill requires no mixing, is easy to apply and is available in handy size 25g tubes sufficient for one worktop joint.
Size:
25g
Note: This link takes you to ColorFills own website.
Please do not forget to come back to order your chosen colour.
Haggle
If you want a larger quantity than shown on this products price breaks, you can haggle for a volume discount (enter your required number of items), or you can tell us you found this item cheaper somewhere else (enter the web address), or you can simply 'make us an offer!' Don't forget to include your email address so we can respond to your haggle request.
Reviews
There are currently no reviews of this product, why not be the first to write one?
Please note that all reviews are moderated before publishing.