Online sales for both trade & public
Get what you can't get!
Everbuild Silweld Self Fusing Repair Tape; Blue (BL)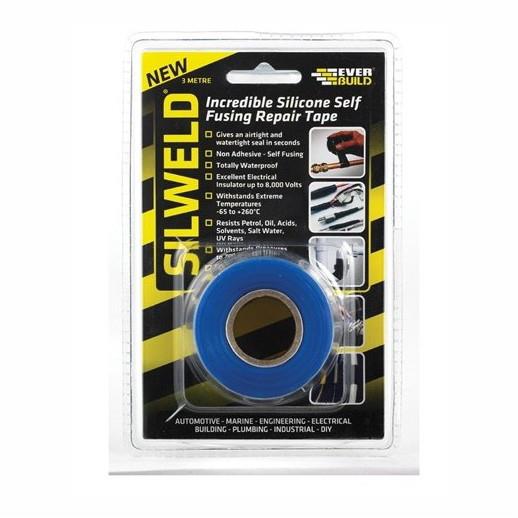 Please note images are for illustrative purposes only. Whilst we exercise every care to provide accurate images, they may not show the exact variation listed below.
Everbuild Silweld Self Fusing Repair Tape; Blue (BL)
Description
Everbuild Silweld Self Fusing Repair Tape
Incredible Silicone Self Fusing Tape Silweld is the incredible new tape that can be used to repair almost anything from an emergency repair to a water hose or air pipe to insulating electrical wires or connections.
It creates an air tight, watertight seal in seconds without the need for any adhesive and it even works under water!
Silweld is an excellent electrical insulator up to 8,000 volts, it withstands extreme temperatures from -65 to 260ºC and even withstands pressure to 700psi.
Silweld also resists petrol, oils, acids, solvents, salt water and UV rays.
Silweld is so diverse that it can be used for permanent or temporary repairs to just about anything:
U bends
All pipes and hoses
Electrical insulation & sealing electrical wires & connections
Binding rope ends
Corrosion protection
And many more uses.
Haggle
You can haggle for a volume discount (enter your required number of items), you can tell us you found this item cheaper somewhere else (enter the web address), or you can simply 'make us an offer!' Don't forget to enter your details so we can respond to your haggle.
Reviews
There are currently no reviews of this product, why not be the first to write one?
Please note that all reviews are moderated before publishing.