Online sales for both trade & public
Get what you can't get!
Trend T11EK And T11ELK Variable Speed Router And Case; 2000 Watt; 1/2" Collet; 8000 - 20000 RPM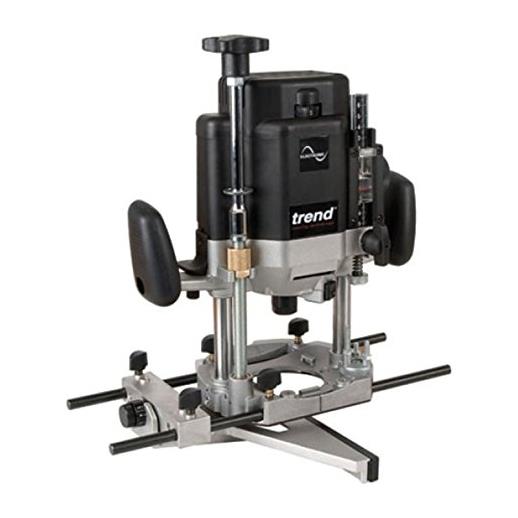 Please note images are for illustrative purposes only. Whilst we exercise every care to provide accurate images, they may not show the exact variation listed below.
Trend T11EK And T11ELK Variable Speed Router And Case; 2000 Watt; 1/2" Collet; 8000 - 20000 RPM
Description
Trend T11 Variable Speed Router And Case; 2000 Watt; 1/2" Collet; 8000 - 20000 RPM
With built in Quick Raiser fine adjuster.
Electronic full wave variable control of spindle speed under load for a fine finish on all types of material.
Soft start eliminates sudden movement of machine on start up.
Two column precision base with large phosphor bronze bushes for plunging accuracy.
Spindle lock and hex collet nut results in easy cutter changes with the 22mm spanner supplied.
Adjustable twin rod parallel side-fence guide with integral micro-adjuster for straight edge work.
Precision machined one-piece multi-slit collet for fail-safe grip of cutter shank.
3-position revolving depth stop for fast adjustable settings. Adjustable inner plate for guide bush accuracy.
Router fine height adjuster for above and below height adjustment. One revolution of the handle equals 1.5mm.
Three quick release recesses in base to fit tables in conjunction with optional Quick Release Kit.
Fittings for optional Clamp Guide System Kit.
Extra-large base aperture for large cutters. Quick release dust spout.
Three year extended warranty with online registration (UK and Eire only).
Specifications:
Rating Professional/Trade
Plunge stroke 0-80 mm
Power input 2000 watt
Power amperage 9.6 amp
Standard collet diameter 1/2"
No load speeds 8-20000 rpm
Dust spout size ID 35 mm
Guide bush diameter supplied 30 mm
Rod diameter 10 mm
Rod length 360 mm
Rod centres 110 mm
Cutter diameter maximum 70/86 mm
Weight 6.2 kg
Cotains:
1 x 1/2" Collet - CLT/T10/127
1 x Fine Height Adjuster - WP-T11/128
1 x 30mm Guide Bush - GB30/A
1 x Inner Plate - WP-T9/075
1 x Line up Pin - WP-T9/090
1 x 35mm Clip-in Dust Spout - WP-T11/107
1 x Side-fence with Micro Adjuster - WP-T10/087
1 x Storage Case - CASE/T10
Haggle
You can haggle for a volume discount (enter your required number of items), you can tell us you found this item cheaper somewhere else (enter the web address), or you can simply 'make us an offer!' Don't forget to enter your details so we can respond to your haggle.
Reviews
There are currently no reviews of this product, why not be the first to write one?
Please note that all reviews are moderated before publishing.