Online sales for both trade & public
Get what you can't get!
Faithfull FAIFOAMGUNNS Foam Gun; Full Non Stick Body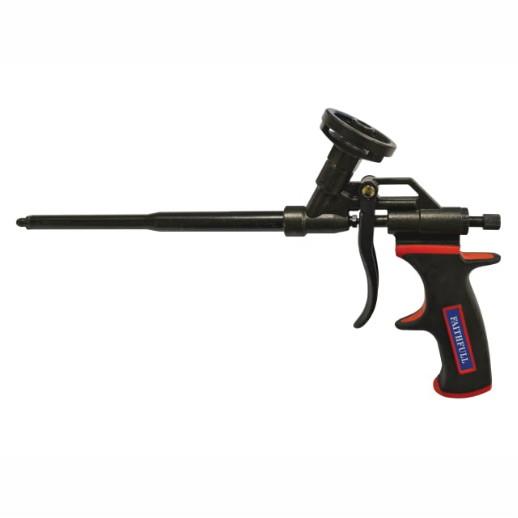 Please note images are for illustrative purposes only. Whilst we exercise every care to provide accurate images, they may not show the exact variation listed below.
Faithfull FAIFOAMGUNNS Foam Gun; Full Non Stick Body
Description
Faithfull FAIFOAMGUNNS Foam Gun; Full Non Stick Body
Faithfull Heavy-Duty Foam Gun (Full Non Stick Body) is a high quality professional foam (spurt) gun designed for use with standard 500ml and 750ml gun grade Polyurethane pressurised expanding foam canisters.
The features of this gun include a sprung trigger mechanism and Micro-fast foam flow adjustment system allowing the user fine control over the foam output, to provide a clean even bead for the accurate installation of the foam and to help reduce waste.
The barrel is hermetically sealed once the trigger has been released to prevent the hardening of the foam when left in the gun.
Additional features include a fully coated non-stick body, a non-stick coated needle and canister fitting valve and a stainless steel barrel to help make cleaning the gun easier.
The gun is supplied complete with two types of additional plastic extension barrels to give better access when used in certain applications;
Ideal for the following applications:
Installation of door and window frames.
Filling and sealing of cavities and joints.
Pipe or cable penetrations in walls.
Sealing joints in wall insulation sheets.
Supplied with:
2 x Long plastic extension barrels.
2 x Short plastic narrow access barrels.
Haggle
You can haggle for a volume discount (enter your required number of items), you can tell us you found this item cheaper somewhere else (enter the web address), or you can simply 'make us an offer!' Don't forget to enter your details so we can respond to your haggle.
Reviews
There are currently no reviews of this product, why not be the first to write one?
Please note that all reviews are moderated before publishing.