Online sales for both trade & public
Get what you can't get!
Stabila Type 196K Hammer Top 3 Vial Ribbed Box Spirit Level; 1200mm (48"); With Free Carry Bag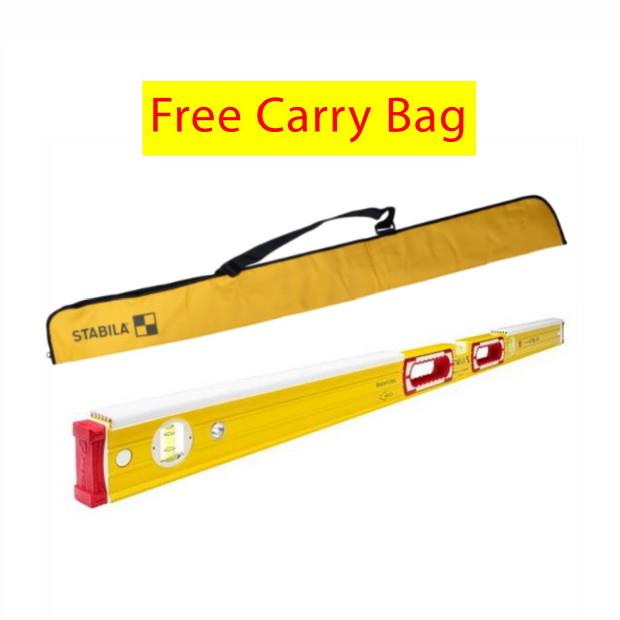 Please note images are for illustrative purposes only. Whilst we exercise every care to provide accurate images, they may not show the exact variation listed below.
Stabila Type 196K Hammer Top 3 Vial Ribbed Box Spirit Level; 1200mm (48"); With Free Carry Bag
Description
Stabila Type 196K Hammer Top 3 Vial Ribbed Box Spirit Level; 1200mm (48"); With Free Carry Bag
Level which has been developed and engineered for the specific demands of bricklayers.
Through the patented top edge impact protection guard, any out-of-line bricks can be corrected with taps of a trowel.
Added to this the hand grips make for easy handling.
The tough reinforced aluminium profile precisely aligned with the STABILA locked vial system is the guarantee for accuracy on any harsh building site.
Because the purpose of our levels is to be accurate and stay accurate.
Ultra-rigid aluminium rectangular profile with patented impact protection for immediate correction of deviations – construction material is aligned with gentle taps on the impact protection, which does not require a change of tool.
Finger-grip openings for easy and comfortable use.
Reinforcing ribs for high stability and a secure hold while working.
Spirit level with one precision-milled measuring surface – no discolorations on the surface for example, on fair-faced brickwork.
Always at eye level – the second vertical vial is offset towards the centre, making it easy to read in all measuring positions.
Shock-absorbing, removable end caps – the two-component material mix protects the profile against impact.
Easy to clean thanks to the electrostatic powder coating.
STABILA installation technology ensures long-term accuracy – measuring accuracy in normal and reverse position of ± 0.5 mm/m.
Equipment:
1 horizontal vial.
2 vertical vials.
1 milled measuring surface.
2 finger-grip openings.
Impact protection.
Measurement accuracy in normal position: 0.50 mm/m.
Measurement accuracy in reverse position: 0.50 mm/m.
Number of measuring surfaces: 1.
Profile: Aluminium rectangular profile with reinforcing ribs.
End caps: Removable, shock-absorbing, anti-slip stopper.
SUPPLIED WITH A FREE CARRY BAG
Haggle
You can haggle for a volume discount (enter your required number of items), you can tell us you found this item cheaper somewhere else (enter the web address), or you can simply 'make us an offer!' Don't forget to enter your details so we can respond to your haggle.
Reviews
There are currently no reviews of this product, why not be the first to write one?
Please note that all reviews are moderated before publishing.