Online sales for both trade & public
Get what you can't get!
Unilite PS-IL5R Inspection Light; 9 Samsung SMD LEDs; 500 Lumen; IP54 Weatherproof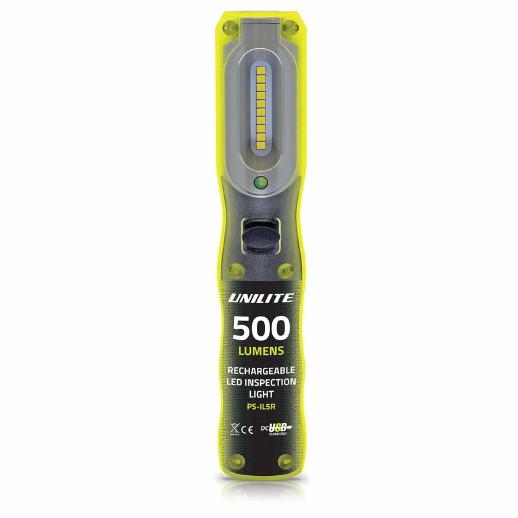 Please note images are for illustrative purposes only. Whilst we exercise every care to provide accurate images, they may not show the exact variation listed below.
Unilite PS-IL5R Inspection Light; 9 Samsung SMD LEDs; 500 Lumen; IP54 Weatherproof
Description
Unilite PS-IL5R Inspection Light; 9 Samsung SMD LEDs; 500 Lumen; IP54 Weatherproof
The PS-IL5R is the next generation of rechargeable inspection lights from Unilite.
Making trailblazing improvements in construction techniques, the IL5R has been forged out of the mantra of continuous improvement.
This has culminated in the creation of the most powerful inspection light of its size.
Featuring a 500 Lumen output from 9 Samsung SMD LEDs, the torch delivers a powerful blast of light from the grasp of your hands.
In addition, there is a 200 Lumen torch on its head, giving an additional light for specialised tasks.
As with all great creations, the foundations have been laid with strength in mind.
This is in the form of a strong polycarbonate and Ultra tough aluminium, giving it great resistance towards the trials of an industrial environment.
For increased placement, the product design team were attracted to using an extra strong magnet on the IL5R, keeping it fixed to metallic surfaces with ease.
Recharging its battery is easy with a DC-USB cable, providing portable non-static charging on the go.
High performance LEDs.
The inspection light is a multi-purpose tool for all aspects of work & leisure.
Rated IP54 the lamp is fully weatherproof for all conditions meaning greater continual performance.
The high capacity Lithium USB rechargeable batteries power the ultra-bright Samsung LEDs to give unrivalled performance when carrying out tasks.
Features:
Ultra-Strong Magnet, improved magnet and pocket clip attachment for added support.
LED Torch Head.
The light has ultra-powerful Samsung LEDs for greater beam spread.
USB Rechargeable, complete with USB cable for charging on the move.
1 x 3.7v 2500 mAh Li-Ion battery.
Beam Distance 52 metre.
Run Time 3 – 7 hours.
IP Rating IP54.
Weight 200gm.
Height 180 mm
Width 35 mm
Haggle
You can haggle for a volume discount (enter your required number of items), you can tell us you found this item cheaper somewhere else (enter the web address), or you can simply 'make us an offer!' Don't forget to enter your details so we can respond to your haggle.
Reviews
There are currently no reviews of this product, why not be the first to write one?
Please note that all reviews are moderated before publishing.