Online sales for both trade & public
Get what you can't get!
Trend CR/QR/SET/2 Craft Pro Quick Release Tool Holder And Bit Set; 60 Piece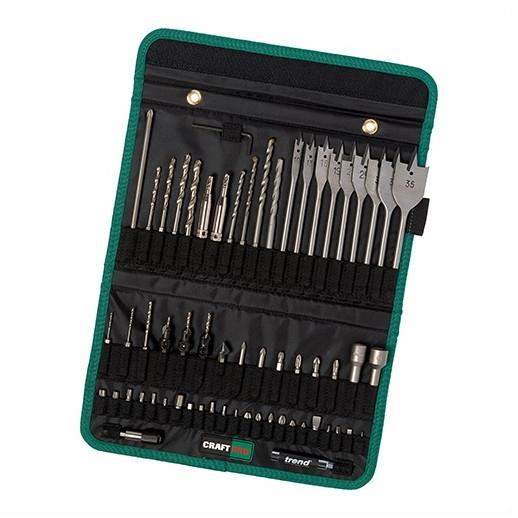 Please note images are for illustrative purposes only. Whilst we exercise every care to provide accurate images, they may not show the exact variation listed below.
Trend CR/QR/SET/2 Craft Pro Quick Release Tool Holder And Bit Set; 60 Piece
Description
Trend CR/QR/SET/2 Craft Pro Quick Release Tool Holder And Bit Set; 60 Piece
Heavy duty fabric tool holder with a selection of assorted Craft Pro tools.
Magnetic Quick Chuck which is fitted into a standard 3/8-inch key or keyless chuck and allows any direct drive 1/4-inch hex bits to then 'snap' in effortlessly.
Flat bits 16mm, 19mm, 22mm, 25mm and 30mm diameter.
Auger bits 10mm and 13mm diameter.
Hex drill bits 1mm, 2mm 3mm, 4mm, 5mm, 6mm and 7mm diameter.
Drill bit guides 2mm and 2.75mm for hinges.
Drill countersinks with 2.5mm, 3.25mm and 3.5mm drill bits.
Twenty-three 25mm insert bits Pozi, Phillips, slotted, Torx and hex.
Three Pozi 50mm screwdriver bits.
Magnetic bit holder with retractable barrel.
Magnetic nut drivers for 6mm, 8mm, 10mm and 12mm A/F bolts.
Square drive adapters 1/4-inch, 3/8-inch and 1/2-inch A/F.
Tungsten Carbide Tipped masonry drills 5mm, 6mm, 7mm and 8mm diameter.
Deburr countersink and hole enlarger tools.
Set supplied in tool holder with elasticated pockets to hold quick change shank and belt strap and are hook and loop fastening.
Set includes:
1 x 60mm Quick change magnetic holder.
1 x Magnetic 80mm Screw guide bit holder.
4 x Masonry bits 5, 6, 7 & 8mm.
1 x Drill bit guide No.6 (2.4mm).
1 x Drill bit guide No.8 (2.8mm).
7 x Hex shank drills 1, 2, 3,4, 5, 6 &7mm.
9 x Flat bits 10, 13, 16, 19, 22, 25, 30, 32 & 35mm.
3 x Drill countersinks 2.4, 3.2 & 3.6mm.
1 x Rose countersink.
2 x Nut drivers 10 & 13mm.
3 x Pozi 50mm power bits PZ1, 2 & 3.
3 x PH 50mm power bits PH1, 2 & 3.
1 x 150mm PZ2 bit.
23 insert bits: 5 x slot, 3 x PZ, 3 x PH, 6 x Torx and 6 x Hex.
1 x 3mm Hex key.
Haggle
If you want a larger quantity than shown on this products price breaks, you can haggle for a volume discount (enter your required number of items), or you can tell us you found this item cheaper somewhere else (enter the web address), or you can simply 'make us an offer!' Don't forget to include your email address so we can respond to your haggle request.
Reviews
There are currently no reviews of this product, why not be the first to write one?
Please note that all reviews are moderated before publishing.