Online sales for both trade & public
Get what you can't get!
Smart H2RWK Blade Set; 2 Piece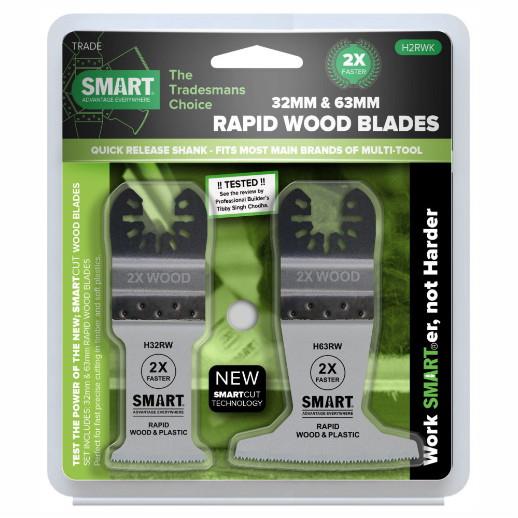 Please note images are for illustrative purposes only. Whilst we exercise every care to provide accurate images, they may not show the exact variation listed below.
Smart H2RWK Blade Set; 2 Piece
Description
Smart H2RWK Blade Set; 2 Piece
SMARTCUT wood blades perfect for fast precise cutting in wood and soft plastics.
Two piece pack with 1 x 32mm and 1 x 63mm blade.
Award-winning Rapid Wood blades are now the best blade for all timber cutting!
The new SMARTCUT design means these blades will cut faster, neater and deeper than any other wood blade!
Great for cutting timber, hardwoods (oak), laminate flooring.
The Rapid Wood blades have a curved tooth design for maximum precision when starting a cut!
A new tooth style for a very fast, clean cut in timber!
Increased blade depth of 51mm to cut all the way through 2″ timber!
Work SMARTer… not Harder!
These blades are particularly suited to cutting hardwood.
Use at full speed when cutting wood.
Haggle
You can haggle for a volume discount (enter your required number of items), you can tell us you found this item cheaper somewhere else (enter the web address), or you can simply 'make us an offer!' Don't forget to enter your details so we can respond to your haggle.
Reviews
There are currently no reviews of this product, why not be the first to write one?
Please note that all reviews are moderated before publishing.