Online sales for both trade & public
Get what you can't get!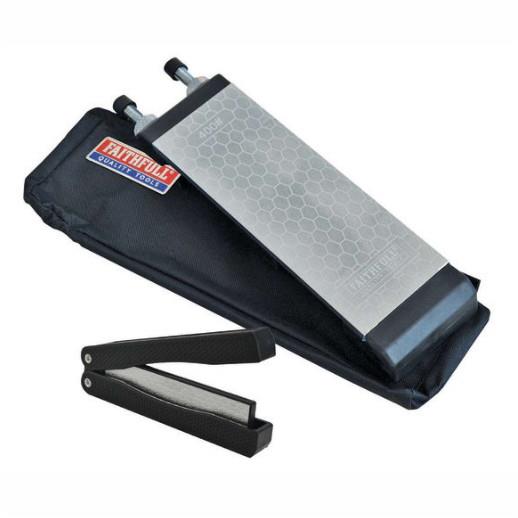 Please note images are for illustrative purposes only. Whilst we exercise every care to provide accurate images, they may not show the exact variation listed below.
Faithfull IDWKITAV Diamond Sharpening Stone; With Added Value Folding Sharpener
Description
Faithfull IDWKITAV Diamond Sharpening Stone; Added Value Folding Sharpener
Faithfull Diamond Sharpening Stone & Sharpener for quick, easy and effortless sharpening of any blade and many other tools.
Two grits are provided 400G course and 1000G fine, each can be easily accessed by simply releasing the stone from the docking station and turning it over.
The docking station is constructed using 3 solid, non-slip rubber pads and robust steel rods, which are fitted with easy grip screw nuts for precise and firm fixing of the stone.
The dock station is adjustable to accept stones from 135 to 216mm in length and has a 6mm deep recess to provide a secure and firm base for all sharpening operations.
Supplied with a handy 400 and 600 grit whetstone with a storage case that unfolds to form a handle.
When closed the case protects the diamond surface and allows the stone to be kept in a pocket ready for use, to quickly restore a sharp edge to any blunt tool.
The stones compact size allows it to reach virtually anywhere that an edge needs to be honed.
Diamond stones will sharpen carbon steel, HSS and tungsten carbide tools and may also be used to abrade glass, ceramic tiles and porcelain and may be used dry or with water as a lubricant.
Used for general purpose sharpening of knives, scissors, chisels, plane blades, cutting blades, TCT router bits and any tool that requires a sharp edge.
Haggle
You can haggle for a volume discount (enter your required number of items), you can tell us you found this item cheaper somewhere else (enter the web address), or you can simply 'make us an offer!' Don't forget to enter your details so we can respond to your haggle.
Reviews
There are currently no reviews of this product, why not be the first to write one?
Please note that all reviews are moderated before publishing.