Online sales for both trade & public
Get what you can't get!
Base B1006 Kaptiv Safety Shoe K-WALK S1P; ISO 20345:2011; Blue (BL)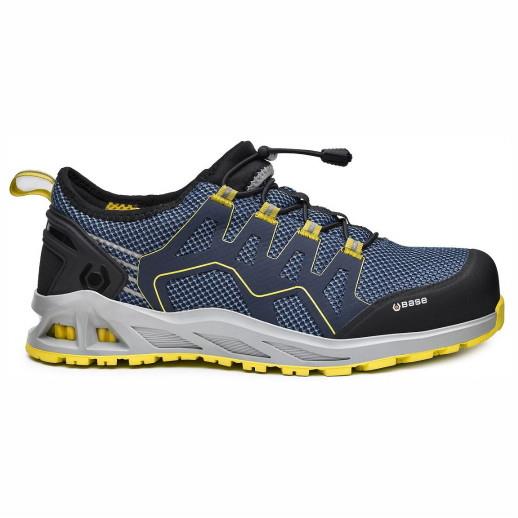 Please note images are for illustrative purposes only. Whilst we exercise every care to provide accurate images, they may not show the exact variation listed below.
Base B1006 Kaptiv Safety Shoe K-WALK S1P; ISO 20345:2011; Blue (BL)
Description
Base B1006 Kaptiv Safety Shoe K-WALK S1P; ISO 20345:2011; Blue (BL)
With a sporty and youthful style, the KAPTIV K-WALK safety shoe is characterised by the use of i-daptive technology; an intelligent, active, and adjustable system that can be adapted to suit a number of different footwear uses.
Can be worn both in indoor and outdoor work environments, and during activities that require constant movement or which require the same position to be held for long periods. i-daptive allows for the dissipation of energy that is released when the foot comes into contact with the ground, thus reducing painful shocks that can travel through the legs all the way up to the spinal column. The new patent provides stability when walking, in order to correct posture problems, while realigning the feet, thus reducing the risk of trauma and sprains. Moreover, the system manages to neutralize imperfections in the floor, while also overcoming the presence of stones, in favour of stability. I-daptive maintains a constant equilibrium for the feet, favouring a correct posture during each and every moment of the day on all surface types.
idaptive:
Smart and adaptive system, for a dynamic comfort solution. The shoe adapts according to the kind of application in use: it dissipates high impact energy, stabilizes the walk, and it helps you maintain the correct posture keeping the foot on axis, reducing the risk of sprains.
Dry'n Air:
A patented ventilation system which uses the foots natural movement as a pump to circulate cool air down through holes in the inner sole of the shoe and along specially designed airways before being expelled.
This means that air circulates freely around the shoe and any moisture in the shoe is absorbed and expelled by the cool air.
As a result it prevents feet from becoming sweaty and other associated conditions such as athletes foot.
It keeps feet cool.
It keeps feet and shoes fresh.
Smell Stop;
Smell Stop is an anti-odour lining that prevents bacteria and fungus responsible for odours, from taking hold anywhere in your shoes.
Prevents Bacteria and Fungus build up which stops bad smells and helps prevent conditions such as athlete's foot.
The anti-odour lining is scented which helps keep your shoes smelling fresh.
Fresh'nFlex:
Ballistic fabric midsole.
Perforation 0mm (ISO 20345:2011).
Haggle
You can haggle for a volume discount (enter your required number of items), you can tell us you found this item cheaper somewhere else (enter the web address), or you can simply 'make us an offer!' Don't forget to enter your details so we can respond to your haggle.
Reviews
There are currently no reviews of this product, why not be the first to write one?
Please note that all reviews are moderated before publishing.