Online sales for both trade & public
Get what you can't get!
Everbuild Mirror Mate Solvent Free Sealant And Adhesive; C3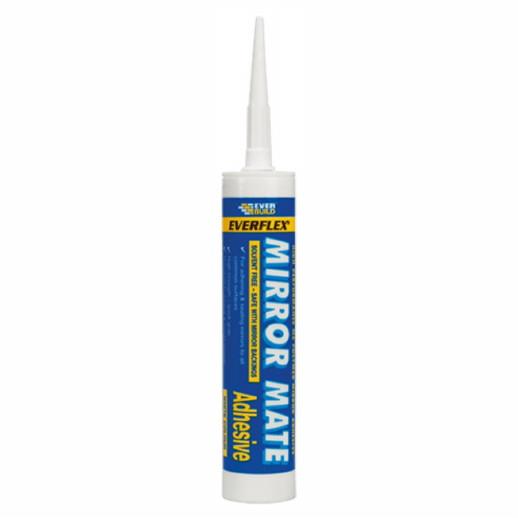 Please note images are for illustrative purposes only. Whilst we exercise every care to provide accurate images, they may not show the exact variation listed below.
Everbuild Mirror Mate Solvent Free Sealant And Adhesive; C3
Description
Everbuild Mirror Mate Solvent Free Sealant And Adhesive; C3
Everbuild Mirror Mate is a one component solvent free adhesive based on MS Polymer technology that is specially formulated for bonding mirrors to most common surfaces.
The totally neutral curing system will not attack the mirror backing.
In addition, this product has numerous other uses as a sealant and adhesive in and around the home.
Features:
Totally neutral cure adhesive system, will not attack mirror backings
Suitable for use as a sealant.
Will stick to damp surfaces.
Solvent free.
Over paintable with most water and gloss based paints.
Sanitary quality, highly resistant to mildew and mould growth.
Fast curing - tack free in 10 minutes and fully cured in 24-48 hours.
Excellent chemical resistance.
Flexible when dry.
Areas For Use:
Bonding mirrors to most common substrates.
Automotive gap filling and sealing.
External and internal perimeter pointing around doors and windows, especially in mobile structures such as caravans and boats.
Sealing vertical expansion joints.
As a high quality nail replacement adhesive, even to damp surfaces.
Bonding difficult materials such as specialised polymer systems, metals and fibreglass.
Applications where resistance to chemical spillage is required.
Colour:
White.
Haggle
You can haggle for a volume discount (enter your required number of items), you can tell us you found this item cheaper somewhere else (enter the web address), or you can simply 'make us an offer!' Don't forget to enter your details so we can respond to your haggle.
Reviews
There are currently no reviews of this product, why not be the first to write one?
Please note that all reviews are moderated before publishing.