Online sales for both trade & public
Get what you can't get!
Everbuild Pyro Mate Firesil; White (WH); C3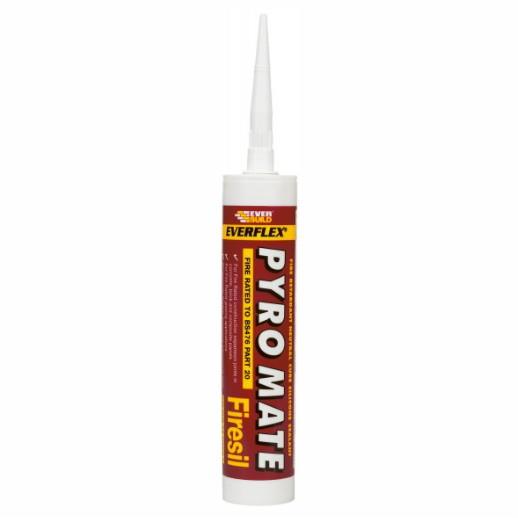 Please note images are for illustrative purposes only. Whilst we exercise every care to provide accurate images, they may not show the exact variation listed below.
Everbuild Pyro Mate Firesil; White (WH); C3
Description
Everbuild Pyro Mate Firesil; White (WH); C3
Pyro Mate Silicone is a neutral cure elastic silicone sealant which conforms to BS 476 Part 20/EN1366-4 (2006) for fire retardancy and has a fire rating of up to 4 hours in certain joint configurations.
Acoustic rated to BS EN ISO 140/3. tested for air permeability to EN13141-1 Ventilation for buildings.
Performance testing for components/products for residential ventilation.
Conforms to ISO 11600 class: F 25LM when tested to ISO 9047, 8339 and 10563.
Also conforms to SNJF norms.
Permanently flexible (25% movement accommodation)
Excellent weathering characteristics - suitable for internal and external use.
Can be used in joints up to 30mm wide.
No priming required for most construction substrates
Non slump - easy to apply and tool off.
Areas For Use:
All building and glazing joints which require a fire rating.
Sealing joints, voids and irregular holes in fire walls, partitions and other structures; also for maintaining the integrity of pipes and cables that penetrate them.
Fire rated expansion joints.
Limitations:
Do not use on surfaces that bleed oils or plasticisers or in contact with bitumen or asphalt.
Do not attempt to sand down.
Finish smooth as per directions.
Not overpaintable
Colour:
White (WH)310ml C3 Cartridge.
Haggle
You can haggle for a volume discount (enter your required number of items), you can tell us you found this item cheaper somewhere else (enter the web address), or you can simply 'make us an offer!' Don't forget to enter your details so we can respond to your haggle.
Reviews
There are currently no reviews of this product, why not be the first to write one?
Please note that all reviews are moderated before publishing.