Online sales for both trade & public
Get what you can't get!
Makita 4350CT Jigsaw; Orbital Action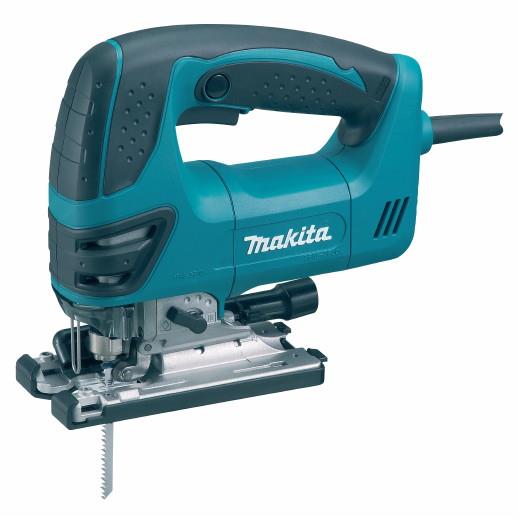 Please note images are for illustrative purposes only. Whilst we exercise every care to provide accurate images, they may not show the exact variation listed below.
Makita 4350CT Jigsaw; Orbital Action
Description
Makita 4350CT Jigsaw; Orbital Action
Models 4350CT have been developed as the successor models of 4340T series models.
In addition to the advantages of the predecessor models, feature new exterior design with ergonomic rubberized handle.
Technical specifications:
Max in steel 10 mm.
Max in wood 135 mm.
Strokes per Minute 800-2800 spm.
Stroke Length 26 mm.
Noise sound pressure 84 dB(A).
Noise sound power 95 dB(A).
Noise K factor 3 dB(A).
Input wattage 720 watt.
Vibration K factor 1.5 m/sec².
Vibration: Cutting Wood 8 m/sec².
Vibration: Cutting Sheet Metal 4.5 m/sec².
Net weight 2.7 kg.
User benefits:
Quick release tool-less blade change.
Variable electronic speed control.
Sturdy adjustable base for accurate cutting.
Standard equipment :
Assorted blades.
Hex wrench.
Anti-splintering device.
Cover plate.
Dust nozzle.
Carry case.
Please note:
Any accessories shown in the images are not necessarily supplied as standard equipment.
Please check the details above.
Three Year Warranty manufacturers on line registration required.
Haggle
You can haggle for a volume discount (enter your required number of items), you can tell us you found this item cheaper somewhere else (enter the web address), or you can simply 'make us an offer!' Don't forget to enter your details so we can respond to your haggle.
Reviews
There are currently no reviews of this product, why not be the first to write one?
Please note that all reviews are moderated before publishing.
Wish List
MAK-4350CT.240

MAK-4350CT.110