Online sales for both trade & public
Get what you can't get!
Rapid R311 Heavy-Duty Hammer Tacker; Complete With Holster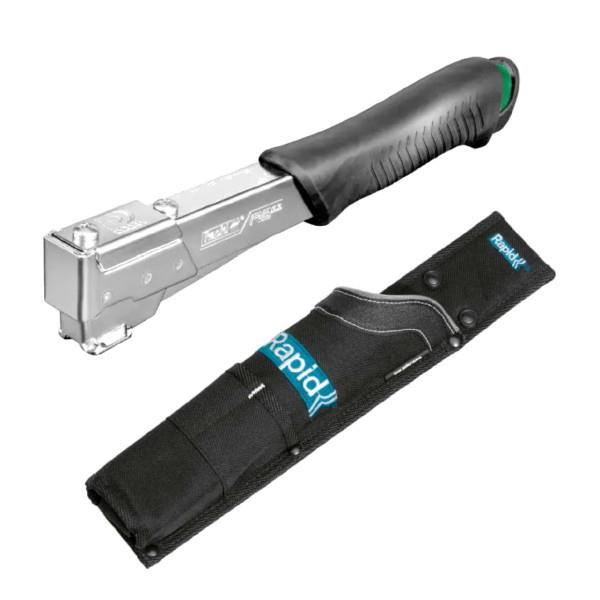 Please note images are for illustrative purposes only. Whilst we exercise every care to provide accurate images, they may not show the exact variation listed below.
Rapid R311 Heavy-Duty Hammer Tacker; Complete With Holster
Description
Rapid R311 Heavy-Duty Hammer Tacker; Complete With Holster
The Rapid R311 is a professional, heavy-duty hammer tacker which is ideal for roofing felt, insulation, carpet underlay and plastic foils.
The unique patented opening mechanism allows fast reloading of staples from the base.
The magazine is opened with just a light push on the button.
The comfortable grip and perfect balance gives excellent results with minimal effort and the all steel, heavy-duty construction ensures strength and durability.
The tacker is compatible with Rapid No.140 flat wire staples 6-12mm which have a larger holding area against the material.
It also has a reversible staple driver so that when one side wears down, the other side can be put in place.
Its large protective plate minimises damage to the base material.
Fires flat wire staples - Type 140 6mm to 12mm.
2 year guarantee.
This option includes the Rapid R311 Hammer Tacker holster which is ideal for attaching to a belt to ensure it is always at hand when using in difficult to access locations.
Haggle
You can haggle for a volume discount (enter your required number of items), you can tell us you found this item cheaper somewhere else (enter the web address), or you can simply 'make us an offer!' Don't forget to enter your details so we can respond to your haggle.
Reviews
There are currently no reviews of this product, why not be the first to write one?
Please note that all reviews are moderated before publishing.