Online sales for both trade & public
Get what you can't get!
Lighthouse L/HSWIVEL Swivel Stand COB Light; 220 Lumen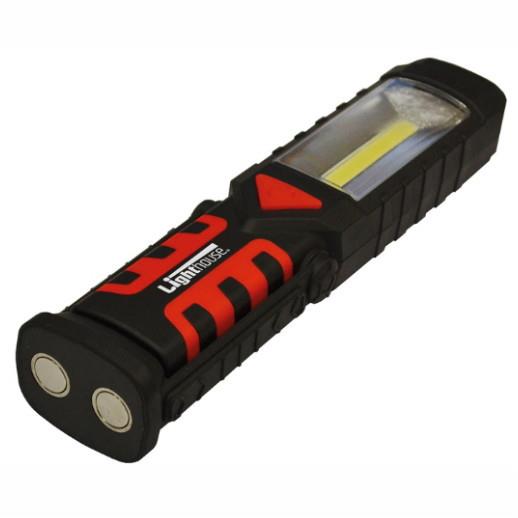 Please note images are for illustrative purposes only. Whilst we exercise every care to provide accurate images, they may not show the exact variation listed below.
Lighthouse L/HSWIVEL Swivel Stand COB Light; 220 Lumen
Description
Lighthouse L/HSWIVEL Swivel Stand COB Light
The Lighthouse COB LED Swivel Light & Torch provides users with a multitude of features and benefits. Whether you use a torch at work, for a trade application or at home and for leisure and hobby activities. It has the latest technology COB (Chip on Board) LED work light panel on the side of the body, and also a traditional spotlight torch at the end, along with a red flashing hazard light on the back of the body. This enables you to use it in a number of ways to suit the task or environment you are working in.
Outstanding 220 lumens of light whilst the spotlight torch delivers an impressive 120 lumens. Making this an extremely versatile and useful light.
Attached to the main body is a ratcheting base which allows the torch to be angled, enabling you to direct light where you need it. The base is also magnetic, so it can be attached to a radiator or car and shine light where you need it most. Ideal if you have to deal with a leak or change a wheel in the dark.
There is also a magnet on the back of the body, along with a fold out hook which allows you to hang the torch if needed. It is ideal to have in a glove box, toolbox, kitchen drawer and can be used anywhere, whether it be camping, fishing, working in the garage, loft, plumbing a bath or working on machinery where there is little or no light available.
The torch uses 3 x AAA batteries (supplied) and has an impressive run time of between 6 to 8 hours
Haggle
You can haggle for a volume discount (enter your required number of items), you can tell us you found this item cheaper somewhere else (enter the web address), or you can simply 'make us an offer!' Don't forget to enter your details so we can respond to your haggle.
Reviews
There are currently no reviews of this product, why not be the first to write one?
Please note that all reviews are moderated before publishing.