Online sales for both trade & public
Get what you can't get!
Dewalt DT70523TM Next Generation Flex Torq Impact Bit Set; 32 Piece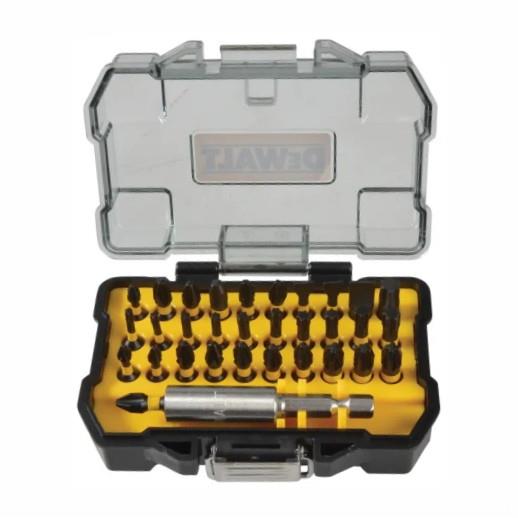 Please note images are for illustrative purposes only. Whilst we exercise every care to provide accurate images, they may not show the exact variation listed below.
Dewalt DT70523TM Next Generation Flex Torq Impact Bit Set; 32 Piece
Description
Dewalt Next Generation 32 Piece Flex Torq Impact Bit Set
The DEWALT Flex Torque Impact Bit Set is supplied in a robust small cassette for safe storage and easy accessibility to screw driving accessories.
It is impact ready for use in impact drivers.
The magnetic bit tip holder features a retractable collar to eject the screwdriver bit only when the user wants to remove it.
Contains the following:
10 x 25mm Pozi Screw driving Bits: PZ1 (2), PZ2 (5) & PZ3 (3).
5 x 25mm Phillips Screw driving Bits: PH1, PH2 (3) & PH3.
2 x 25mm Phillips Drywall Bits: PR2 (2).
3 x 25mm Slotted Screw driving Bits: SL6, SL8 & SL10.
11 x 25mm TORX Screw driving Bits: T10 (2), T15 (2), T20 (2), T25 (2), T27, T30 & T40.
1 x Magnetic Bit Tip Holder.
Haggle
You can haggle for a volume discount (enter your required number of items), you can tell us you found this item cheaper somewhere else (enter the web address), or you can simply 'make us an offer!' Don't forget to enter your details so we can respond to your haggle.
Reviews
There are currently no reviews of this product, why not be the first to write one?
Please note that all reviews are moderated before publishing.