Online sales for both trade & public
Get what you can't get!
Toughbuilt TB-60-16 16" Massive Mouth Tool Bag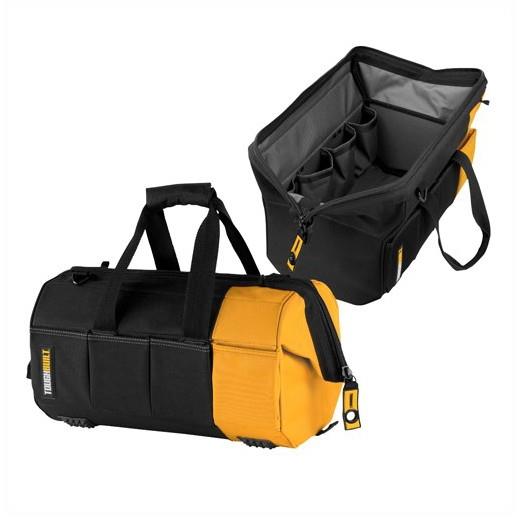 Please note images are for illustrative purposes only. Whilst we exercise every care to provide accurate images, they may not show the exact variation listed below.
Toughbuilt TB-60-16 16" Massive Mouth Tool Bag
Description
Toughbuilt TOU-60-16; 16" Massive Mouth Tool Bag
The ToughBuilt 16" Massive Mouth Octagon Bag transforms how professionals carry tools and supplies.
The patented opening is wider than anything on the market for superior accessibility.
ToughBuilt 16" Massive Mouth Bag
The unique octagonal shape with rigid plastic Hardbody lining protects everything inside and keeps its shape. Comes with a lockable zipper for security and safety.
Its 38 versatile pockets include structured external pockets that flex to securely hold tools in place.
Made with high-quality, rugged materials and heavy-duty rivet reinforcement, this hard-working bag keeps up with the professional's rigorous demands.
Features & Benefits:
Massive Mouth Opening - Patent-pending large opening for superior visibility & accessibility.
Hardbody Lining - Rigid plastic Hardbody lining protects everything inside.
Lockable Zipper.
Durable Mesh Pockets - Provides complete visibility for stored items.
Maximized storage capacity - Variety of pockets keep tools & accessories organized.
Heavy-duty Construction - Heavy-duty rivet reinforcement, rugged fabrics and components of uncompromising quality make this hard-working bag capable of withstanding the harshest work environments.
Rivet Reinforced Handles.
Comfortable Padded Handle.
Rugged Rubber Feet.
Flex Pockets.
Structured external pockets.
High Quality Zipper.
Haggle
You can haggle for a volume discount (enter your required number of items), you can tell us you found this item cheaper somewhere else (enter the web address), or you can simply 'make us an offer!' Don't forget to enter your details so we can respond to your haggle.
Reviews
There are currently no reviews of this product, why not be the first to write one?
Please note that all reviews are moderated before publishing.